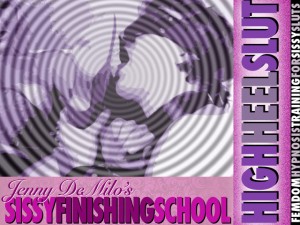 Jenny DeMilo's Sissy Finishing School – High Heel Slut : lesson 5
Class is in session and today's lesson is "HIGH HEEL SLUT " Be seduced by my powerful hypnotic voice and have your mind controlled by my powerful femdom training. Become obsessed and distracted by high heels, fuck me pumps, tall sexy shoes, Trained to crave the feel of them on your feet and how they make your legs and ass look when you sashay down the street. Take lesson 5 you will be begging for the next. Not for those not interested in real sissy slut transformations.
Includes: high heel obsession, fuck me shoes, shoe fetish, pumps, sling backs, foot fetish, public humiliation, sissification, transformation, forced fem, forced bi. Back tracks, double tracks, subliminal triggers, deep implantation of reactive thoughts.
File Format: .mp3
Price: U.S. $25.00