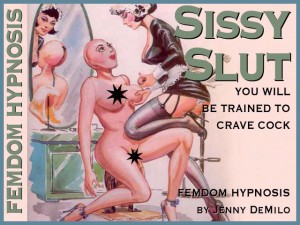 Erotic femdom hypnosis training. SISSY SLUT Transformation and training. You will be entranced and transformed. Transformed into the sissy you are deep inside. Craving to be a sissy slut at my feet.  obsessed with cock, mesmerized to need it. You cant stop yourself from the transformation taking place deep inside you. You need it all the time and can't stop thinking about it. It's an obsession you cant control, it controls you. I will control you, transform you into what i want you to be, my dirty little sissy girl.
Go deep into a trance, hear the triggers, the deepers, and be programed to need and want and constantly think about being transformed into a cock obsessed sissy slut . You wont be able to resist my hypnotic voice and implanted triggers. Audio Produced and arranged by Sal DeBain, a known producer/rockstar working with me under a pseudonym to protect his mainstream musical career from prying eyes. Being a notorious Hollywood party girl has its benefits! Now those benefits are yours, as you are seduced by strong, alluring femdom hypnosis into the dark spiral of being transformed into a a real sissy slut ready to serve.
Includes: Induction, subliminal triggers, back tracks, multiple track, original music Forced bi, cum eating,  transformation, forced feminzation, oral servitude, erotic hypno,  femdom, cock obsession, slut training.
Best listened to with HEADPHONES to get the full audio  hypno affect. Not to be taken lightly, serious femdom hypnosis. There's no turning back now.
File Format: .mp3
Price: U.S. $25.00